Become a Grant Writing Pro: Certificate in Grant Writing Program for Beginners and Experienced Writers
Certificate in Grant Writing: What to Expect and How to Get Started

Are you interested in expanding your career opportunities with a grant writing certificate? Grant Central USA offers an online course that can help you get started. Our Grant Writing Certificate Program is designed to give you the skills and knowledge needed to understand the grant writing process, develop grant proposals, and find potential funding sources. In the course, you will learn the basics of grant writing and how to prepare a successful proposal. You will also explore various funding sources, understand the grant writing process, and become familiar with key terminology. Our course is designed to be comprehensive so that you will have a complete understanding of the grant writing process.You will also learn how to develop and write a well-structured grant proposal that is sure to be approved by the funding source. Additionally, you will gain access to Grant Central USA's grant-seeking resources and tools that can help you efficiently locate potential sources of funding.
By the end of our course, you will be able to confidently write successful grant proposals and become a grant writing professional. Our program for freelance writers also includes discussion forums, video conferences, and live webinars with various grant writing professionals. You'll have the opportunity to network with seasoned grant writers and industry experts.
What credentials do you need to be a grant writer?
To be a successful grant writer, you need more than just writing experience. Many employers and organizations look for candidates with specific credentials or certifications. A good way to set yourself apart is to pursue a grant writing certification.
These certifications provide applicants with the knowledge and skills needed to write grant proposals, understand the process and terminology of federal grants, and secure funding. With a credible certification under your belt, you'll have an edge on the competition and be better qualified to make federal proposals and assist organizations in navigating the grant writing process.
Certifications can usually be obtained through universities, colleges, and nonprofit education organizations. As a grant writer, you'll be required to understand the rules and regulations of different funding sources and have excellent writing skills. Being able to communicate complex data and information effectively is also necessary.
Once you have the appropriate credentials, you'll be well-equipped to begin your career as a successful grant writer. With some hard work and dedication, you'll be able to make a real impact helping organizations secure the funds they need.
Benefits of Getting Certified in Grant Writing: Advancing Your Career and Professional Development
If you're interested in advancing your career and taking your professional development to the next level, becoming certified in grant writing is a great way to do it. With a grant writing certification, you can gain the knowledge and skills needed to write successful state and foundation proposals. This will make you a more valuable and attractive asset to employers, as well as open up new opportunities for career advancement. Here are just a few of the benefits of becoming certified in grant writing:
1. Increase Your Earning Potential -
With a certification in grant writing, you can demonstrate to employers that you have the necessary skills to secure funding from state and foundation sources. This can lead to more job opportunities or promotions in your current career, as well as higher salaries.
2. Professional Credibility -
Organizations are more likely to trust and hire someone with a certification in grant writing than those without this type of training. Having a certification makes you an attractive asset in the workplace, as it shows employers that you have been trained to properly research grants and write compelling applications.
3. Networking Opportunities -
Becoming certified in grant writing opens up new opportunities to network with fellow professionals and organizations in the field. This can help you stay up-to-date on the latest trends and best practices in grant writing, as well as give you a leg up in the job market.
4. Create Your Own Opportunities
- Grant writing certifications can also help you create your own opportunities outside of the corporate world. You can use your certification to take on freelance gigs, launch your own business, or even join a non-profit organization.
By becoming certified in grant writing, you can gain the necessary skills to write successful proposals and advance your career. Plus, it opens up new opportunities for networking and creating your own professional path. Get started on your certification today to kickstart your career, write grants, and take your professional development to the next level.
What are some common requirements for grant writing program?
If you're interested in pursuing a career as a grant writer, there are certain requirements you'll need to meet. A certificate in grant writing can be a helpful asset to have. It is recommended that you participate in a grant writing program, which will provide you with the skills and knowledge necessary to write strong and successful grant proposals. Common requirements for a grant proposal writing certificates program include:
1. Understanding of the grant process:
A good understanding of the various grant application process is essential. You should have a thorough knowledge of how to apply for, and manage, grants so you can submit winning proposals.
2. Research and Writing Skills:
You should have excellent writing skills as well as research experience and investigative ability to ensure your grant proposals are accurate and complete.
3. Knowledge of Funding Sources
: You should have an understanding of the various funding sources available to you, so that you can find the most appropriate one for your project.
4. Project Management
You should be able to understand and manage projects, including tracking progress and maintaining records.
5. Financial Management
As a grant writer, you will need to be able to handle the financial aspects of grants, including budgeting and financial reporting.
By completing a grant writing program, you will be prepared to write professional, successful grant proposals that will help you secure the funding necessary to get your project off the ground. It's important to understand the requirements before beginning any grant writing program, so you can determine if it's the right fit for you and your goals.
What types of courses and workshops might be included in a grant writing certification program?
A grant writing certification program typically includes courses that teach the fundamentals of grant writing and proposal development. Students learn about best practices for researching potential grant funding and sources, developing persuasive narratives, and designing effective strategies for submitting a grant request. Workshops in the program provide instruction on how to develop compelling budgets and other financial documents, as well as how to craft persuasive letters of inquiry. Finally, the program also covers topics like grant management and evaluation to ensure that potential grantees have the skills necessary to succeed in their grant-seeking endeavors. With all of these components, a certification program provides a comprehensive understanding of the entire grant writing process
Certification programs also offer an invaluable opportunity for participants to connect with peers in the field and learn from their experiences. Through mentorship and peer discussions, students can share their successes and challenges, as well as learn from the successes and mistakes of others. This not only helps to prepare participants for the ever-changing grant writing landscape, but also provides much-needed encouragement and support.
At the end of the program, participants will be equipped with the skills and knowledge to confidently pursue grant writing opportunities and become successful grant writers. With a certification in hand, participants can confidently pursue their grant writing goals and make an impact in the world. So if you're looking to take the next step in your grant writing career, a certification program is the way to go. Reach out to experienced grant writers and take the steps necessary to get certified today!
How can you apply the skills and knowledge you gain in your certification program to real-world grant writing situations?
With a grant writing certificate, you can apply the in-depth skills and knowledge you gain to real-world situations. You will learn how to create effective and persuasive grant proposals for nonprofit organizations, government entities, educational institutions, and more. With this knowledge, you can make a real difference in the lives of people and organizations that need funding.
Your certificate advanced grant development can also be used as leverage when seeking entry-level jobs in fundraising, grant writing, or other positions within the nonprofit sector. By learning the fundamentals of grant writing, you will be equipped to effectively communicate and interpret information regarding grants in order to develop successful grant proposals. Additionally, you can use your knowledge of grant writing to network with other professionals in the field and stay up-to-date on best practices for grant writing. With a grant writing certificate, you can make a positive impact in the lives of people and organizations who need your help.
This certification program is invaluable in giving you the tools to make an impact on your community and beyond. With knowledge of grant writing and nonprofit management, you can help those in need access the resources they require to achieve their goals. In short, your grant writing certificate gives you the skills and understanding to make a real difference in the world.
If you are passionate about making a positive change, then a grant writing certificate is an invaluable tool for making your mark. With this certification, you can give yourself the confidence and knowledge to apply your skills to real-world grant writing situations.
When it comes to grant proposals, there are common areas that often need improvement. For nonprofit organizations, these can include grammar and spelling errors, lack of clarity on the organization's mission and objectives, poor flow between sentences or paragraphs, incorrect formatting for state and foundation proposals, and inadequate research or evidence to support the proposal. Professional grant writers can help ensure that proposals remain error-free and adhere to all necessary guidelines, however there are also steps that any organization can take to ensure a successful grant proposal.
What are some next steps you can take after completing your certification program, and how can you continue to grow as a grant writer?
Start by doing your research. Understand the needs of the donor you are targeting, their expectations for your proposal, and how the donation will support your mission. Demonstrate that you are aware of the grant requirements and understand how to comply with them. Once you have done your research, create an outline for the proposal that clearly states what questions will be answered in which sections. This will help ensure that you provide all of the required information and that your proposal follows a logical flow.
It is also important to make sure that your proposal is well written and free from errors. Have a professional editor review the document for grammar, spelling, and syntax errors. Additionally, check to make sure that the proposal is properly formatted and that all relevant information has been included.
Finally, be sure to include evidence in your proposal that will support your arguments and demonstrate the impact of your organization. Research data, surveys, stories from beneficiaries, and other evidence can all help to strengthen your proposal and show that your organization is responsible and capable of delivering the project you are proposing.
By doing thorough research, following a logical flow, ensuring that the document is error free, and including evidence to support your proposal, you can be sure of a better chance of success when submitting a grant proposal. While professional grant writers can be of tremendous assistance, taking the time to ensure that your proposal is well written and relevant will go a long way in helping you secure the funding you need.
What are some common areas for improvement in grant proposals, and how can you address them?
Once you have completed your certification program, it's time to start looking for opportunities as a grant writer. Start by searching online for government grants that you would be interested in writing a proposal for. Research the grant requirements and eligibility criteria to make sure that you are a good fit. When applying, make sure to include your certification and any prior experience or other relevant experience that you have.
Keep track of the grants you apply for so that you can keep track of your progress. Also, network with other grant writers in the field for advice and support. Not only can they provide you with useful information, but they can also help you to find new opportunities.
Continuing your growth as a grant writer is important in order to stay on top of the latest trends and techniques. Look for online courses, attend seminars, or join a professional grant writers association to stay up-to-date. Additionally, consider writing a blog or creating a portfolio to showcase your skills.
With the right tools and dedication, you can become an effective grant writer and help a variety of organizations secure the funding they need.
What are some factors to consider when choosing a grant writing certification program?
Choosing a grant writing certification program can be an important decision for those looking to break into the field of grant development and become professional grant writers. There are a few important factors to consider when selecting the right program for you.
The first factor is credentials and accreditation. Ensure that the program is accredited and certified, so you know it meets standards of excellence. Look for certificate programs that have been approved by a legitimate accrediting body. Additionally, find out who is teaching the program and what their professional credentials and experience are. The more prestigious the instructors, the more likely you are to benefit from the program.
The second factor is cost and affordability. Some programs may offer discounts depending on your individual circumstances, so it is important to inquire. It is also good to check if the program includes any additional fees and to factor those into your overall budget.
Additionally, find out if there are payment plans available to help make the program more accessible.
The third factor is the program structure and delivery methodology. It is important to note that some programs may offer a combination of in-person and online instruction. Look for programs that provide flexibility, such as one-on-one tutorials, group assignments and virtual or video chat sessions. This way, you can get the most out of the program while still having the flexibility to manage your own schedule.
Finally, consider what type of support is available after completion of the program. Look for programs that have a strong alumni network and mentorship opportunities, so you can continue to develop your skills and build connections.
By taking into consideration these key factors, you can find the perfect grant writing certification program to help launch your career as a professional grant writer. Good luck!
What are some common mistakes to avoid when selecting a certification program?
When selecting a grant writing certification program, it is important to consider a few key factors. First and foremost, make sure the program is well established and reputable. Do your research to ensure that the certifying organization is respected in the grant writing community, and that their credentials are valid. Additionally, be sure to review the program curriculum and material.
While certification programs should provide a comprehensive overview of grant writing, some may focus more on general grant proposal writing topics or offer specialization in specific areas. Ensure the program meets your needs and aligns with your interests. Finally, consider whether the program offers hands-on experience or mentorship to help you gain the practical skills needed to write successful grant proposals. By avoiding these common mistakes, you can be confident that you are selecting the right certification program for your needs.
How can you evaluate the quality and effectiveness of different grant programs?
Evaluating the quality and effectiveness of different grant programs can be a challenging task. However, there are a few key steps that you can take to ensure that your grant program is successful. First, research the various grants available and assess their eligibility criteria as well as any specific requirements for application. Second, look into obtaining certifications in grant writing if it's available to you. This will help you write a better grant proposal and increase your chances of having it accepted. Third, review the grant program's success rate and track record to determine if it is indeed a viable option for funding. Finally, talk to other organizations that have used the grant program in question to get an idea of how well it worked out for them. By following these steps, you can ensure that your grant program is of the highest quality and effectiveness.
Is a certificate in grant writing worth it?
When it comes to writing grants, certifications can be a great way to learn the skills needed to write effective grant proposals. Having a certificate in grant writing can make you more competitive in the job market and help you to stand out from other applicants. It also demonstrates a commitment to building your skills in the field of grant writing and allows you to gain an understanding of the various aspects of grant proposal writing.
Overall, a certificate in grant writing is worth it if you are looking to expand your knowledge of the grant writing process and build a successful career within the field. With that said, it is important to remember that while having certification can help you stand out, it is not a guarantee that you will win every grant. It's also important to remember that having the certificate alone won't make you a successful grant writer. You must also have the necessary skills and knowledge that come along with being a professional grant writer, such as researching opportunities, writing compelling grant proposals and following up with potential funders.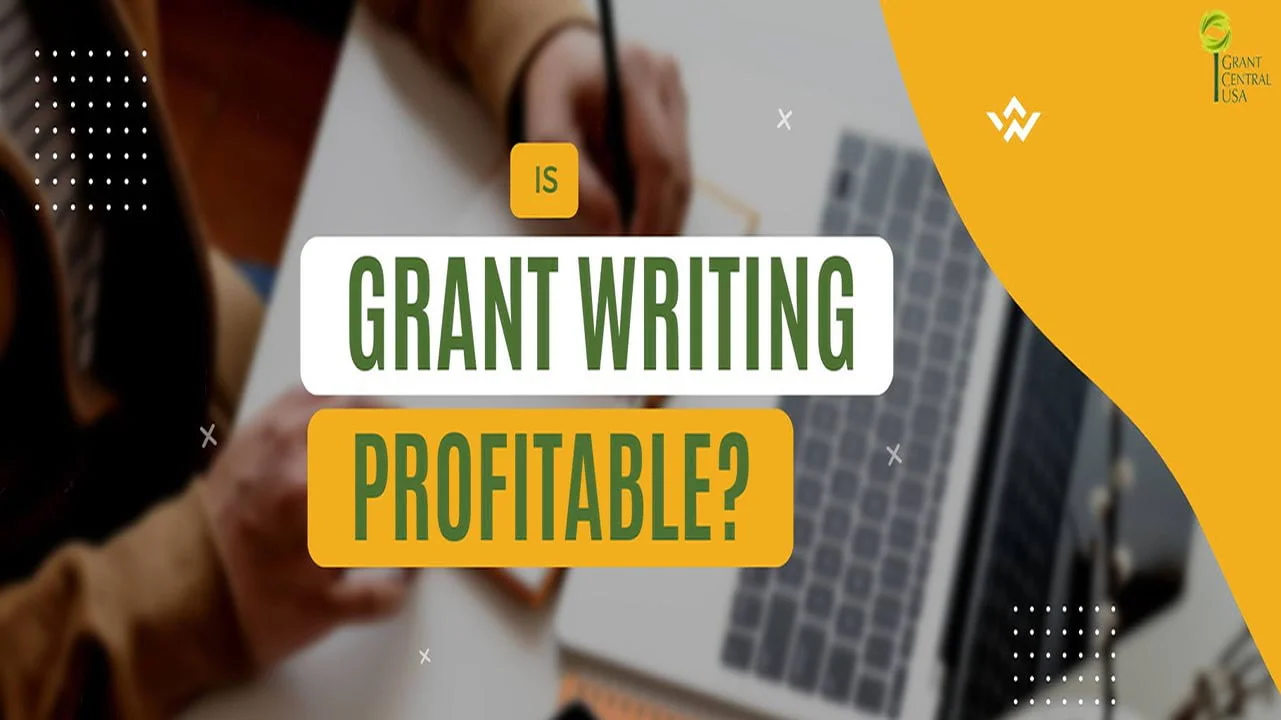 Is grant writing profitable?
Writing grants can be a lucrative career, and grant writing certifications are available to those interested in getting started. With the right education and knowledge, you can become a certified grant writer and start creating successful grant proposals. A good grant proposal is essential to receiving the funding that your project or organization needs. Grant writing requires knowledge of the grant application process, research and data gathering, a keen eye for detail, and excellent writing skills. Knowing how to write a good grant proposal can make the difference between receiving funding or not.
The demand for skilled grant writers is high, and those with the right credentials can make an excellent living. A grant writer should be knowledgeable about the available grants and have a complete understanding of their requirements. They must also have organizational and communication skills to ensure that the grant proposal is accurate, cohesive, and easy to understand.
Grant writing can be a great way to make money and help organizations that need it. If you have the necessary skills and knowledge, consider becoming a certified grant writer today! You'll be helping projects and organizations in need while also making a great living. Get started on this rewarding career today!