They Raised Millions...
How Ordinary People Helped To Raised Millions of Dollars For Their Nonprofits and Government Agencies
Hi, I'm Rodney Walker, a Master Grant Acquisition Specialist. The story I tell you below is the absolute truth, as incredible as it may seem.
"Help, I Need To Raise $15,000.00!"
It was a short ride in Los Angeles on the 110 Freeway that led to millions of dollars being raised for countless people and organizations.
My friend Kinoti Meme, a Ph.D. student at the time, was sweating bullets because he was near the completion of his internship, requiring him to raise $15,000.00 for his youth group.
"Rodney, What Am I Going To Do?"
I suggested grant writing!
Kinoti was clueless about grant writing and needed to be coached through the process. I shared a few pointers with him and encouraged him to attend my next grant writing workshop. He did.
The rest is a beautiful story of helping to raise millions of dollars for people all over the world.
But more on this later...
"What Am I Doing Wrong?"
Kathleen Tiemubol had written a few unsuccessful grant proposals and wasn't quite sure what she was doing wrong. She decided to take the first step to resolve her problem... How?
Pursuing knowledge.
She attended my grant writing workshop back in 2007 and applied the easy-to-implement principles, and wrote a successful grant proposal that resulted in her raising nearly half a million dollars for a Graduate School's Art Center.
This is what she wrote to me by email telling me about her success:
My Grant Journey... And Why This Might Be Important To You In Raising Lots Of Money
In the late 90's I was working for a nonprofit organization as a Director of an Education and Youth Development program. We had a contracted grant writer who collected the necessary information from me and the other staff to develop a grant proposal which she would eventually submit to a funder.
Even though I wasn't the one writing the proposals, I really wanted to learn this skill, especially after I discovered that the grant that she wrote had gotten funded!
I was convinced that this knowledge would pay BIG DIVIDENDS in helping me to achieve my goals... if I could learn it.
I figured if I could learn how to secure grant monies for various nonprofit organizations I served, then I would always have a valuable skill that would be in high demand.
I was right.
But, what I didn't know was that the few grant writers I knew would be unwilling to teach me this craft.
So, I gave it my best shot and worked on a grant proposal for a new nonprofit organization with a program I had developed.
At least a month was invested in preparing the proposal.
I submitted the grant proposal to a foundation for $25,000, and about a month later,
I received a notice that my grant request was DENIED! 
I was disappointed, to say the least.
 However, the grant administrator invited me to her office to share the numerous mistakes I made in my grant proposal.
Looking back at this experience, I learned some valuable lessons from that meeting.
I was determined from that day on to get the necessary training to become a GREAT grant writer.
I read everything about grants and grant writing I could get my hands on.
I attended several workshops and training. In 2006, I completed a Master of Business Administration with a focus on fundraising and grant writing. I had the privilege of studying at Duke University, the University of Texas in Austin, the University of Southern California, and several other fine institutions. 
I became really good at grant writing.
I started sharing my insight with others, and they started achieving similar success.
Like Tricia Levine, who was clueless about grant writing but took my training at Pasadena City College and successfully wrote her first grant for $25,000. Or Hollie Abraham, who was also brand new to grant writing. I trained and helped to secure grant money for her organization.
I could tell you about the private school in Denver I helped train that received $250,000.00 or the countless government agencies and nonprofits that I've helped, like this one below.
The Short Ride That Eventually Led To Helping Others Raise Millions Of Dollars In Grant Money
Do you remember my friend, Kinoti, who was working on this Ph.D. that I mentioned earlier?
Well, I helped him get funded!
He successfully completed his degree and went on to become the chair of a nonprofit management department at Regis University. In July 2010, he approached me about teaching 16 of their Graduate Students online in an 8-week course on grant writing.
Eureka!
The online training I did for the university was a hit. This led me to assemble a team to develop an authoritative and comprehensive grant development training. What started out as a short ride down the 110 Freeway of Los Angeles has blossomed into a wonderful resource to help generate millions of dollars for deserving organizations and government agencies worldwide.
I believe this training was created with you in mind. Read on and see if you feel the same way!
In a time when many organizations are struggling to raise funds, The Ultimate Grant Writing That Gets Funded training and coaching program has continuously helped organizations rise above the tide.
In this grant writing super-pack, you will gain over 20 years of proven strategies, techniques, and systems that have literally helped to raise millions of dollars.
My system takes a comprehensive approach to grant writing. It transforms it into grant development which is what you really want to do if you are serious about attracting maximum funds into your agency.

I have managed to remove the complexities of grant development and designed an easy-to-understand method that holds you by the hand and guides you step-by-step to the quickest ways of securing grants.

What this means for you is that you will AVOID many of the costly mistakes and common pitfalls that most organizations make by learning today's best practices.

I will train and guide you, along with several other veteran grant professionals, fundraising experts, and funders, into understanding exactly what you must do to win grant money at a high level.
My goal for you and your organization is to help it do grant development at a high level, just like champions do it in other fields and sectors.
Over the course of my career, I've had the privilege of meeting, interviewing, and working with some AMAZING people. Many of these were celebrities and high-profile individuals at the top of their game... Yes, Champion!
Where do you think these Champions would be if they didn't have winning strategies or a coach in their life to lead them to victory?
Does Steph Curry and Draymond Green win the NBA Championship without Coach Steve Kerr?

Do the Patriots win their Super Bowls without Coach Bill Belichick?

Does the Alabama Crimson Tide even make it to the college championship games without Coach Nick Saban?

Does Serena Williams win her Grand Slam Tournaments without coaching?
The most realistic answer is NO.
We understand that we are less likely to give our very best without guidance, direction, motivation, and coaching.
The same is true when you are seeking to create a winning game-plan for securing grant funds for your agency.
The clients that I have seen become the most successful in securing money were those who:
1. Received our comprehensive grant development training
2. Took immediate action to implement what they had learned
3. Developed a team approach to grant development based on our instructions
4. Avoided countless mistakes by following today's best practices
5. Received ongoing support through coaching for maximum success
But more on this money-making coaching program later...
Let me guide you through The Ultimate Grant Writing That Gets Funded training program along with the Super-Pack that has already generated millions for our clients.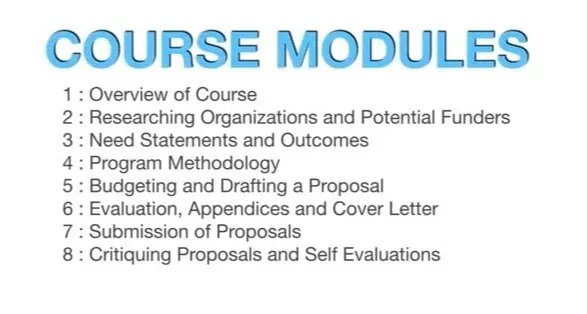 MODULE 1 - OVERVIEW OF THE COURSE
The first session will help you understand the entire course and benefit from tips to help maximize your learning experience. You will get an understanding of the grant writing climate and learn ways to start distinguishing your agency from others.
MODULE 2 - RESEARCHING ORGANIZATIONS AND POTENTIAL FUNDERS
You will discover the importance of learning to research organizations and potential funders who are likely to give to your cause. You will also discover how to keep from wasting valuable time and use the insight gained from your research to give you a competitive edge.
MODULE 3 - NEED STATEMENTS AND OUTCOMES
Did you know funders have a certain way they like to be approached? In this module, you will discover the best ways to do this and how to develop a powerful need statement with great outcomes. You will learn the types of questions you should be considering as you shape your narrative.
MODULE 4 - PROGRAM METHODOLOGY
This module explores the importance of being prepared by developing a grant proposal library which will help you develop a logical argument in your proposal by developing SMART goals. You will gain greater clarity on the difference between goals and objectives and how they complement each other to describe what the grant-seeking organization desires to accomplish with its project.
MODULE 5 - BUDGETING AND DRAFTING PROPOSAL
You will learn the importance of developing a budget that effectively communicates what you are proposing your organization will do with the funding secured through a grant. Discover how to make use of in-kind donations within your proposal and learn how to infuse your writing with a passion that connects with the funder.
MODULE 6 - EVALUATION, APPENDICES, AND COVER LETTERS
Discover the most commonly used grant application used by several funders and learn how to develop an effective evaluation statement for your grant proposal. You will also learn many of the typical things that go inside of the appendices and how to write a compelling cover letter.
MODULE 7 - SUBMISSION OF PROPOSALS
This module is dedicated to helping you learn how to submit your proposal the correct way without missing out on the important details for which funders are looking. You will discover some important things to do and ones to avoid doing with your grant proposal submission.
MODULE 8 - CRITIQUING GRANT PROPOSALS AND SELF-EVALUATIONS
You will learn the importance of critiquing your proposal and how to effectively get others involved in this process. You will explore some of the best ways to critique your proposal and conduct a self-evaluation to increase the success of your request.
MAJOR BENEFITS THAT HELP YOU ATTRACT MORE MONEY
I Will Reveal Exactly Where The Money Is And The Quickest Ways To Get It!

Learn Which Funders To Ask For Money and Which Ones You Shouldn't Waste Your Time On!

Discover My Top 5 Grant Money-Making Secrets to Getting Funded Sooner than Later

See What Less Than 1% of Other Grant Writers Are Doing That Will Give You A Competitive Edge

You'll Be Exposed To Winning Grant Proposals That You Can Model Yours After

Remove ALL The Guesswork Of What Goes Into A Grant Proposal So You Can Move Forward With Confidence

Gain Access To Today's Best Practices That Helps Others To Get Funded Again and Again!

Discover How To Improve Any Grant Proposal With Our Unique 15 Point Scoring System

Benefit By Hearing The Top 7 DO's And DON'Ts To Getting Funded and Discover How What You Don't Know Is Costing You Money

I'll Reveal My Insider's Secrets To Knowing What Funders Are Looking For In Your Proposal Every Time

Hear From Other Top Performing Grant Professionals To Discover Their Keys To Success In Winning Grants

Get Exposure To Real Funders So You Can Hear Directly From Them On What They Say It Takes To Get Funded!

I'll Show You How To Save Hours, Days, And Months Off Of Your Grant Pursuit… By Doing What The Pros Do To Get The Money!
I have spent over 20 years formulating my award-winning grant development process and I synthesized this essential information into templates and forms to help you ensure that you are doing things the right way, even if you are a beginner.
This means that you will not have to waste time trying to create your own systems like I did, which was carefully crafted after studying at some of the most prestigious universities and researching today's best practices which took me well over 10,000 hours to compile and produce.
You'll gain access to forms like my grant proposal checklist, which will ensure that you provide the funders with everything they're asking for… every time!

You'll gain access to my exclusive 15-Point Scoring System, which will allow you to critique every proposal you develop and make it much better before the eyes of a funder are ever laid upon it.

This means you will have fewer mistakes in your proposal because I will reveal to you my 3 step process of what you need to do before you submit your proposal to a funder.
I'll show you how to use the Go-No-Go Worksheet to your advantage when deciding if you should even go after a potential funder and reveal how to strategically use this when your agency wants to go after a grant that it should not even be considering.
All of this simply means that you will be able to save precious time and work smarter versus harder.
You will become more effective and efficient by using proven systems that have already helped to raise millions.
SAY GOODBYE...
Say "goodbye" to guesswork.

Say "goodbye" to wishful thinking.

Say "goodbye" to just keeping your fingers crossed.
My comprehensive systems are going to help you look like a seasoned grant professional. But more importantly, it is going to help you to get the money!
Have you ever been in a class where the teacher said something that you missed, but you were too afraid to ask him to repeat what was said because of the crowd?
No problem here.
Because you will be able to rewind this video-based learning and catch every key point needed to ring in the money.
Remember the last time you were in school and were trying to keep up with the lecture notes from your professor, but your hands were not quick enough to write down everything that was being said?
You won't have that problem here!
You'll gain access to each of my profit-making training session handouts. Plus, every word that I say is transcribed for you… which means you will have the best notes available.
This also means you will be able to focus on what is being said and that which is most important… getting the money!
Dozens of exclusive and semi-exclusive articles are waiting to show you the keys and reveal the secret codes you'll need to open up the grant money vaults for your agency.
I've handpicked some of the most helpful articles and tidbits of advice that I've gathered over the past 20 years to keep you from having to waste time knowing what is a good insight and what is not.

This means you will be reading the information that I've personally vetted and placed my stamp of approval on as a way for you to access grants with confidence... knowing you are doing things the right way and the smart way!
Believe it or not, the insights that you can get from just one article have the potential to be the secret linchpin that causes an avalanche of grant money to come to your agency.
I've seen it again and again.
Imagine yourself being like many of my other students who've applied the principles from our helpful articles that have gone on to get funded!
You'll gain access to helpful articles that help you to probe into the minds of funders. Thus, you'll be able to speak the funder's language.

I'll reveal to you little-known shortcuts that are used by professionals to win money. This means that you will have more time to do other things and that your money will arrive at your agency sooner than later.

I'll share with you articles that help you to see your role as a dream broker within your agency and how to tell a compelling story that attracts money.
Now, let me tell you the good news!
Much of the heavy lifting has already been done for you. The Ultimate Grant Writing That Gets Funded training program provides you with a direct blueprint for getting that funded.
You don't have to figure this out… RELAX, I've done that for you!
Now all you have to do is tell your story, and my special video-based learning guides you step-by-step through exactly how to do this.

Think about it. You have a tight schedule with lots of demands for your time. Since time is precious and every minute matters, you don't have time to be stuck in traffic trying to go to a classroom.

No problem… your money-making classroom comes to you.
When you get my comprehensive grant development system, you can consider yourself officially enrolled in Cash Cow University!
This is where you will get one-on-one teaching to help you discover the art of winning grant money repeatly!

You will not have to wait around for the instructor… you will have my 20+ years of money-making insights available to you at the stroke of your keyboard.

The insights that have helped to raise millions are available to you on demand.

Just imagine… now you and your team can receive today's best practices and essential knowledge required to raise the money you need for your agency.
Now you can get your entire team on the same page by doing group training simply by turning on your computer, laptop, tablet, or mobile device.
You don't have to do the heavy lifting… it's been done for you.
Tell me what happens when your agency selects a team to go through my training, and you're able to print out all the workbooks you need for each person with all the forms and templates in my system, and they start acquiring the knowledge to win the money.

What happens when your agency starts working smarter by doing grant development as a team instead of as a solo job by one frustrated person?
I will tell you what you can expect!
You can expect better-developed proposals that are more attractive to funders and that are produced in a more effective and efficient timeframe.
Are you seeing the power that this system has to transform your entire grant operations? I hope so because if you can, it could result in literally hundreds of thousands of dollars or even millions of dollars for your agency.
You probably will agree with me that the initial hardest part of the grant development process is simply understanding what you're supposed to do.
Let me explain. If you don't know what to do or what your proposal is supposed to look like, then things become much harder.
But you won't have to worry about this. I've covered all the bases to make sure you have everything I only wished that I had when I was first starting out.
You will have access to samples of winning grant proposals that have been funded.
This means that you will not have to guess what a good proposal is supposed to look like. It also means that you will have something concrete to model your proposals after, which will save you countless hours and give you a clear path to scoring a touchdown.
I will literally walk you step-by-step through a grant proposal and highlight the good and the bad so that you can gain valuable lessons from both.

You will see first hand what a good narrative that tells a compelling story it's supposed to look like. This means your proposals can be modeled after these winners and adapted to incorporate a similar style.

I will reveal to you the secrets of how to say more with fewer words.

My sample grant proposals will help to unlock and demystify the best ways to capture the interest and attention of those who are giving out the money and take them on a journey that leads them into giving your agency money.
A few of my students that I have helped to raise millions told me that they loved the sample proposals that I included in this training. I believe you and your team are going to love them too… especially after you see the powerful RESULTS they are able to produce.
There's a saying that you don't know what you don't know!
And this statement is very true, especially as it relates to grant development. When I was first starting out I started collecting the most valuable insight that I could find and I started putting it inside of a manual.
As I enrolled in different trainings, seminars and certificate programs over the years that cost me thousands, I was also given various tools and resources that I found extremely helpful.
I have compiled them into what eventually became the grant writing resource manual.
This Manual Is Going To Help You To:
Communicate with funders the way they want to be communicated with. This is going to help you avoid looking and sounding like a rookie in your grant request which could be the kiss of death to your request if done the wrong way.

Incorporate solid evaluations into every proposal you develop so that funders see that you're taking their investments seriously. This means you will be able to distinguish your grant request from over 75% of the others who are submitting proposals that are not doing this.

Demonstrate the true value of what your organization is proposing to do by developing solid timelines and program activity descriptions. You'll be able to paint a picture with your words and descriptive language. And much more!
You will gain access to the Logic Model and learn how to use it effectively.

You will learn how to craft better budgets and illustrate in words and numbers exactly what your agency is bringing to the table to help the funder fulfill its mission wisely with the funds they invest in your agency.

You will benefit from additional samples of winning grant proposals to add to your grant proposal library that is only a click away when you need a quick reference to consult.
Again, this is something you will be able to print out for your entire team to have everyone on the same page!
Your virtual library is loaded with over 14 informative products designed to help you immediately and in the future to secure grant funding.
The library is more like an online learning center… It is like most libraries in that it contains resources such as books, articles, reports, and items that you have to check-out and return by a certain time.
However, this library does not require you to check-back in your items because everything in your library is yours.
This means that you will have this valuable asset at your fingertips FOREVER!
Your library (virtual development learning center) is where I will live and wait for you to call upon me to provide you and your team with concise instructions on the best ways to win the money.
I've also brought many other experts and philanthropic professionals to your library to assist whenever you need it. This is done through the insightful interviews and training videos that we recorded especially for you.
But more on the interviews with the funders and grant professionals later.
Just know that you will have a wealth of knowledge waiting for you in this center with over 60 Videos, Two Manuals with over 250 Pages of Solid Money-Making Strategies, Transcribed Notes & Handouts from my 8 Modules, 8 Exclusive interviews with Funders and Grant Professionals all designed to help get you funded!
I know it's not right to have animals in the library, but your cash-cow lives here too and is waiting for you!
I promised you that I would walk you by the hand just like I've with my other students. Yes, step-by-step down the yellow brick road to getting funded!
The same way that I gave thousands of others solid advice with practical systems to make things as easy as possible is what I'm committed to doing for you with this training and coaching program.
You can rest with ease, knowing that the first 30 Days I will show you EXACTLY what you should be doing on that day!
No more guessing

No more questioning yourself

No more wondering if you're going in the right direction
Kiss those worries goodbye… because I'm going to handhold you for the first month like a toddler.
With this type of coaching it will be nearly impossible for you to mess things up as you follow my advice. I've intentionally kept these short videos to around 2 minutes or less to allow you to quickly digest it like a vitamin supplement and move forward with action.
It's almost like I'm coming to your agency every day and giving you a strategic game plan that leads to the Gateway to Grants!
You will gain the motivation you need along with the inspiration that will propel you to take action so that you can get RESULTS!
The Ultimate Grant Writing That Gets Funded training isn't about giving you and your agency cute-sounding information… It's About GETTING RESULTS!!
I'm so committed to this that I've thought of every possible way that I can help you win BIG and went to work to provide you with the best insights to do precisely that!
One of the ways that crossed my mind was in creating a way for you to be like a "fly on the wall" to eavesdrop and discover the mindset of those giving out the money.
All I can say is that it has helped me and my students raise millions! Just imagine what it is going to do for you and your agency when you access my resources. I have four exclusive one-on-one interviews that tap you into the mindset of funders.
The Ultimate Grant Writing The Gets Funded training and coaching program continue to over-deliver by helping you to understand the psychology of those giving out the money. Trust me, it is most likely different then what you think.
The Grant Writing Insights features interviews with four funders who candidly open up about what it takes to get funded. You will get a chance to hear firsthand what they see as common mistakes and challenges that keep agencies from getting grants.
You will also hear what the elite agencies do to win the money that the others don't do!

This means you will be able to get a clear birds-eye view of the types of things you will want to avoid doing that blocks the money from coming your way.

It also means you will discover more of the things you will want to do that attracts the money.
These gems and nuggets are priceless.
Here Are Just A Few Of The Topics Covered...
Discover why you Should Not try to pigeon hole every funder into the same box and how to work more effectively with Grant Makers of varying sizes from the Large Foundations, Corporate Foundations, and Family Foundations

Gain greater clarity and a better understanding of the Role of a Program Officers to drastically improve your approach to securing money from them the right way

Find out the first things funders recommends you should do before asking them for a single penny!

Learn the top places to go to learn more about a foundation which will help you to ensure you are a good fit for what they want to fund

You will learn 6 Ways To Help Foundations Learn More about your Organization and understand why this is important to the success of your grant request in their eyes

Understand what mission alignment is and how to ONLY seek funding from those that are a good fit

Discover The Best Ways to effectively communicate with those giving out the Money and hear how the Program Officer can become your greatest Advocate and Ambassador to help you secure more funding

Hear how other successful grantees build rapport with funders to keep the money flowing their way and how you can do the same

Learn what you should and should not do when challenges arise in your project that has been funded and see how to stay in the good graces of funders when they do
Each funder shares little known secrets and helpful antidotes that I have passed along to my clients that have been the difference between getting funded and being sent to the back of the line empty-handed.
After each one-on-one interview, I provide you with a brief gold-mining session where I will come back and synthesize what has just been said and give you your next marching orders for gaining MAXIMUM grants!
If clear and concise directions are what you're looking for you've come to the right place.
Consider me the Drill Sergeant that's helping you to drill for your next golden grant!
I will also provide you with four additional Grant Writing Insights from grant professionals who have been highly successful in raising millions of dollars.
You will learn precisely what they do to ensure their success in winning maximum funds.
Just think about it… you will hear from a grant professional who has raised over $131 million in her career. Not to mention the others who also raised millions!
I want you to clearly see this Three-Prong Approach that I'm going to provide to help you and your agency become as successful as possible.
I'm going to show you exactly what you need to do to win grants.

I'm going to let you hear from funders who give out the money!

I'm going to bring to you grant professionals who have won waves and waves of grant money!
Thus, you'll learn what to do and what not to do from me and these leading experts… I'm leaving nothing to chance as I prepare you to win and win BIG!
Now are you seeing how I've been able to help so many of my students to be so successful?
Fully implementing just one of these dynamic ideas has the power to generate thousands and even millions of dollars!
Well folks, there you have it.
This is how I've helped others to raise millions and how I'd like to help you and your agency.
It all started from the ride on the 110 Freeway where I provided a little coaching to Kinoti who got results in less than 6 months over a decade ago.
What is going to happen when you and your team go through The Ultimate Grant Writing That Gets Funded training and coaching program where I guide you for an entire year and you have my system FOREVER?
Amazing things can happen in a relatively short timeframe if you will open yourself up to this possibility.
Once You Register
I encourage you to register now while you can still access my powerful system at the current price. I can assure you that it will not stay at this price for long.
When you register now you will gain INSTANT access to the system that has helped others win again and again.
It will be loaded with concrete actionable items that you can start using immediately to bring resources and revenue to your agency.
What To Do Now!
In the strongest, yet most respectful, tone possible I urge you: don't wait for another second to register!
If you register now, not only will you get this powerful grant development system, but you will also receive my special training, "3 Legged Stool for Successful Grant Writing"… and… you will also be signed up to receive other notices about my webinars, tips, strategies and case studies.
So now that I've given you an overview, I hope you register and allow me to help you get some fantastic results.
Please click on the button below to register.